Understanding Your Risk Appetite During Uncertain Times
Michael Blonk, Manager - Optimum Recoveries
"The recent Creditor Watch Business Risk Index highlighted a sharp increase in B2B trade payment defaults, signalling growing stress among businesses and predicting a rise in insolvency rates in the coming months.
Put simply – things are going to get worse.
Which is why it is important as business owners that we understand our appetite for risk and are taking extra precautions during this time to ensure that we aren't taking on too much bad debt.
I'm sharing some of the questions that I recently posed to a group of Future Leaders. These questions are designed to help you understand your risk profile, and to identify where you need to act – through improved terms and conditions, trade insurance or other measures – to reduce your business risk.
Risk Appetite Questions:
How often do you write-off bad debts?
What are your current losses as a % of revenue over the past 2 years?
What is the acceptable loss level as a % of revenue for your business and sector?
On reflection, were any of your losses avoidable?
Customer Acquisition Questions:
How do you risk assess new customers?
Have you established a profile of the customers you want to acquire?
Are you able to choose the customers you accept or reject?
How do you ensure you acquire profitable customers?
The graph shows the risk associated with different industries as of July 2023. Consider what industries your clients sit in – both existing and prospective – and how that affects the risk profile of your own business.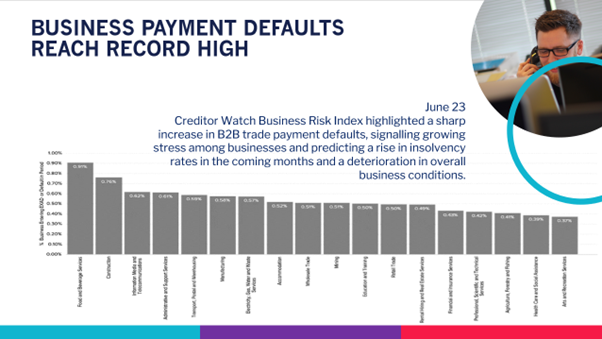 Payment Terms Questions:
Your payment terms are one of your strongest forms of defence against bad debt.
When was the last time you reviewed your payment terms?
Have you calculated how much revenue you have lost due to payment terms?
Terms & Conditions Questions:
Your terms & conditions completeness can be the difference between getting paid and incurring a total loss
Have your terms & conditions been pressure tested?
How do you ensure they include all necessary clauses for your business and your customers to ensure when you need them they enable you to get paid?
Customer Retention Questions:
How do you retain profitable customers and minimise unprofitable customers?
Has your customer base grown in line with the tenure of your business?
What percentage of your customers are unprofitable?
How many customers do you need for your business to operate optimally?

Optimum Recoveries can assist you in working through these questions, assessing your risk appetite, and putting preventative measures in place to protect your business. Should you wish to contact us please phone (07) 3166 8888 or mblonk@optimumrecoveries.com.au