TechnologyOne founder Adrian Di Marco's
10-year start-up horizon
Link: Financial Review - 18 March 2019
Michael Bailey


Adrian Di Marco's latest company investment, a deliverer of no-additive office snacks called Snackwize, can expect a decade of support from the TechnologyOne founder because he believes Australian start-ups are going public too early.
Mr Di Marco - a contender for the 2019 Rich 200 - seeded Snackwize with $500,000 last year in the form of redeemable preference shares.
He said milestones attached to the shares reflect the "nine or 10-year" investment horizon preferred by the entrepreneur.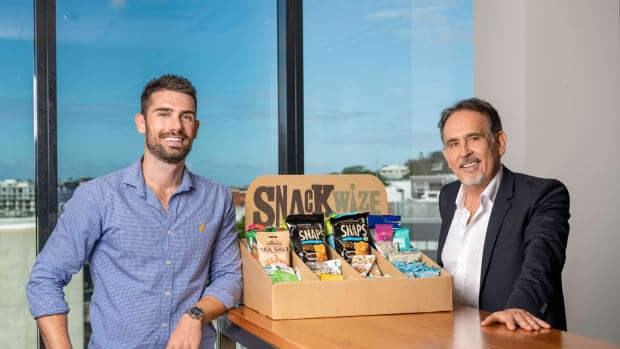 Snackwize founder Conor Reynolds (left) with seed investor and TechnologyOne founder Adrian Di Marco. Joseph Byford
"TechnologyOne had been going for 12 years when we listed on the ASX in 1999, and maybe you don't need that long any more, but I'd still argue you need a decent timeframe to get your operations, your governance and your regulatory issues sorted," he told The Australian Financial Review.
"Otherwise you're sorting them out while your face is in the paper every other day, and the pressure must be enormous."
Snackwize was founded by Conor Reynolds in 2016 while he was still a Flight Centre marketing executive, and Mr Di Marco said it was a prime example of the kind of Australian start-up that needed more support in its early days.
"It's making revenue, in Conor it's got a founder with corporate smarts, and it's proven there's a gap in the market that it's addressing. All I'm doing is adding fuel to the fire," he said.
Snackwize has about 100 corporate customers to which its supplies boxes of snacks on either a monthly or weekly basis. Clients include Deloitte, Marriott, Red Bull, RMIT, Hutchison Builders and, not surprisingly, TechnologyOne, where Mr Di Marco remains a director after stepping down as chief executive after 30 years in 2017.
The snacks Mr Reynolds sources for the boxes must have no artificial colours, flavours, preservatives or added sugars.
He admitted that fresh fruit would always be the healthiest office snack but said the logistical difficulty and expense of supplying fruit every day meant this option was struggling to keep up with a workforce that is snacking more often.
Nearly one-third of Australians admitted they sometimes snacked instead of having a meal, according to 2017 research by market intelligence outfit Mintel, which pegged the trend on increasing casualisation of jobs and more women juggling work and parenthood.
"Consumers are seeking snacks that contain ingredients more commonly found in a main meal such as vegetables and protein," Mintel said.
"Superfoods are in demand because they are a quick fix, and relieve the 'nutrition anxiety' of consumers leading fast-paced lives and skipping meals."
Mr Reynolds hoped Snackwize boxes, stacked with everything from probiotic vegetable chips to "paleo-friendly" protein bars, would reach 300 recurring customers within a year, and grow in line with the entry to the workforce of Millennials, who research suggests are the most likely generation to snack four or more times a day on food other than fruit.
Mr Di Marco is yet to exit a start-up investment, but said he was "not far off" with a couple in his portfolio, which includes Practice Ignition, an automator of proposals and payment collections for accountants, and Fusion Sport, a collector of human performance data.
Mr Di Marco said he spent about 15 per cent of his time helping his investee start-ups, which also include an Israeli alternative to passwords involving biometrics.