Social Media & Engagement



I often get asked what contributes to making my business Beginning Boutique as successful as it has grown to be today. In its nine years of becoming a global e-tailer, I could factor that to thousands of different aspects of trial and error, however, I could also attribute that to a shining light of technology that helped put Beginning on the map; the social media map that is.
Over the course of nine years, it's safe to say social media isn't anywhere near where it used to be. Today, the photo sharing app Instagram counts 500 million active users daily and media platform Facebook racks in a cool 1.3 billion users every single day. That number is rapidly growing each year - and it's showing no signs of slowing down in the near future.
For beginners, some social media platforms may seem frightening at first, either because a) it's new to you or b) it didn't 'work' for your business. Good news, it's not compulsory to use every single social media platform religiously, you just need to learn what's right for you.
Firstly, find out what platforms your customers are using. Without a doubt that is where you need to focus on most. If you're in the fashion industry like Beginning, Instagram has been a popular tool in getting our product out there and into our demographic's minds. The app counts ages 25-34 year-olds as their predominant user, with 18-24 year-olds as their second largest user age group. Take what you know about your customer and do some market research into their online habits. From there, create a personalised plan on how you can nail this target audience.
Putting all your energy into Pinterest but seeing no correlation in click-through rate? Don't be afraid to cut your losses and channel energy elsewhere that could significantly propel your business' success. Yes it is good to use a variety of platforms, but the skill is narrowing those down to the key players. After finding out what works best for you, evolve on that and hone in on your skills in that particular platform.
Finally, don't get caught up in your follower count. Growing your account is important, but it all comes down to the content you are producing. If you are generating authentic photography, written content and providing products your customer likes, your chances of creating genuine reach and engagement will follow.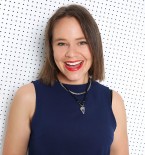 Sarah Timmerman, Director & Founder
Contact Sarah Timmerman for more information
www.beginningboutique.com.au
Follow Beginning Boutique's social media journey:
Instagram: https://www.instagram.com/beginningboutique/
Facebook: https://www.facebook.com/BeginningBoutique/