Printing Industry Creativity Awards 2019
Article Link - click here
At times, we can get so caught up with our work in the studio that we forget to stop and take a moment to reflect on all the great things we've achieved. The year so far has been a whirlwind of exciting and challenging projects and through the process of reflecting on the last financial year's worth of work, we have taken some time to note the accomplishments of the studio as we assist our clients towards greater business success.
The recent Queensland Printing Industry Creativity Awards saw DAIS awarded a gold for our creative work for Spaceframe, three silver medals for our clients Hillhouse and Renaissant as well as a self-promotion piece for the DAIS studio. The gold award for Spaceframe was then entered into the 36th Annual National Print Awards where it received a silver medal against the country's finest entries.
We're extremely proud of creating these innovative pieces and would like to thank our wonderful clients who put their trust in us and our hardworking studio team who take personal pride in living the DAIS brand promise of 'inspire me'.
The following entries range across four categories and capture the diversity of projects (and industries) we've had the opportunity to work on.
Spaceframe Drone
Category: Direct Mail
Gold: Queensland Printing Industry Creativity Awards 2019
Silver: The 36th annual National Print Awards 2019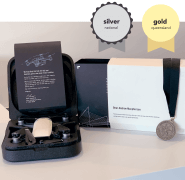 The Spaceframe Drone was developed as a direct mail prospecting piece to prompt organisations to think about their facility from a view they don't normally see, and to inspire them with potential improvements Spaceframe could deliver. The personalised packaging featured an exterior casing, internal sleeve and belly band and was supported with case study booklets and branded drone label stickers to deliver a high end and disruptive direct marketing piece like no other.

Renaissant Temporary Signage
Category: Large Format

Silver: Queensland Printing Industry Creativity Awards 2019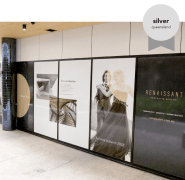 Prior to the opening of Renaissant Aesthetic Health's new state-of-the-art private day hospital, a teaser signage concept was designed to provide a glimpse of the world class facility being constructed and to engage passers-by. The 40-metre frontage was used to create a premium art gallery style experience taking people on a journey and showcasing works from influential artists on the cusp of science.

Hillhouse Corporate Folder
Category: Presentation Folder
Silver: Queensland Printing Industry Creativity Awards 2019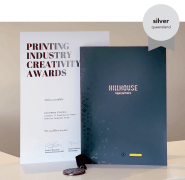 Developed as part of a brand evolution for a leading law firm, the stationery aesthetic was based on reflecting the firm's focus on cutting through the clutter to provide simply strategic legal solutions. The corporate folder brings this concept to life, through the incorporation of a spot UV and a deboss of the brand's icon. On the interior of the folder, the business cards are positioned on a highlighted pocket with die cut diamond slots, which point to the names of the legal team.
DAIS Book of Persistence
Category: Self-Promotion
Silver: Queensland Printing Industry Creativity Awards 2019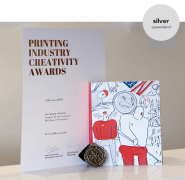 Developed as an annual client gift piece to engage and showcase our creative and design talent, the DAIS Book of Persistence features an original font and illustrations in a striking colour scheme of DAIS Red and Ink Blue. Half pages feature throughout the spreads which flip to reveal a before and after scenario to enhance the story and highlight a new and fascinating discovery.
While awards are a wonderful recognition of our work, the greatest achievement is seeing our strategy and creative pieces bring a brand to life, creating opportunity and momentum for the business. We've been fortunate to work on many more inspiring projects over the past 12 months, so stay tuned for more exciting news yet to come.