Navigate the future – Invest in Innovation
Brian Ruddle, Managing Director - Impact Innovation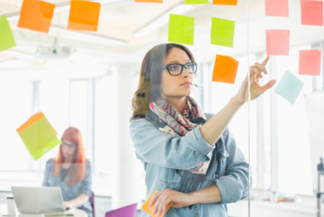 Innovation can be your organisation's 'secret weapon' to navigating the future. Rather than be stuck playing catch-up, investing in innovation drives competitive advantage, growth and employee engagement. There's a cost to doing it - and there's potentially an enormous cost if you don't do it.
What does 'good' innovation investment look like?
Our innovation maturity scale is a useful resource to inform where and what to invest.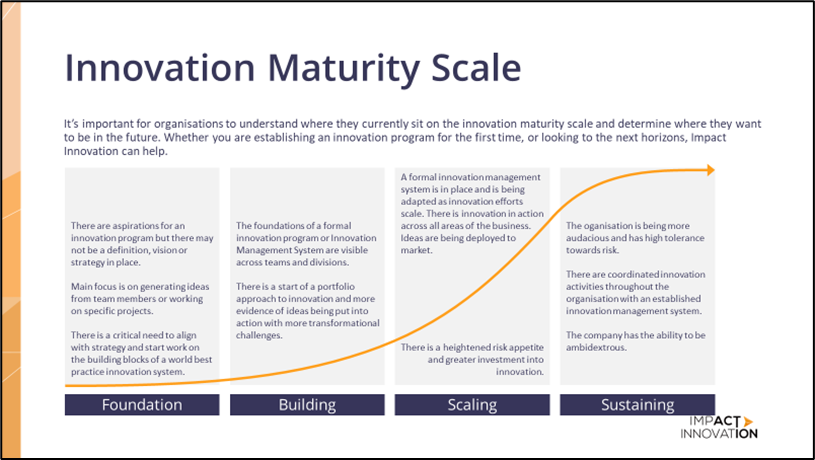 Foundation Stage:
It might take 12 months to get the foundations right. There are often conflicting perspectives around what innovation is - and isn't. Resourcing and expertise may be lacking. Choosing a best practice framework such as ISO 56002 Innovation Management System Standards will help. Define what innovation is, provide a vision, a basic strategy and ensure you are investing in culture and capabilities.

Building Stage:
There might be a high volume of ideas, but many might be stalled, lapsed, and sucking up resources unnecessarily. We recommend investing in defining innovation value and designing an operational stage-gate process to achieve value. It's akin to installing a GPS and upgrading your engine in a car. You'll have a better idea of where you're going, and you are sure to have a smoother ride getting there.

Scaling Stage:
Organisations in the scaling stage may invest more in resourcing. Invest in teams that validate ideas. Consider how you can proactively re-deploy resources across the business as required. We also recommend investing in a more robust KPI and evaluation framework based on lessons learned.

Sustaining Stage
Here organisations are firing on all cylinders but may need to invest in refreshing and redesigning the system - what worked then, might not work now. Invest in gathering strategic intelligence to keep up with changes in the external and internal environment. Ensure your portfolio is looking ahead to longer-term horizons. Work in the now, the next and the later.

Impact Innovation's Innovation Navigator® Program might be a good place to start. We customise a program that might include:
Maturity assessments and benchmarking tools - to help pinpoint where you are now.
Co-design workshops - to identify where you want to be.
Training – to build capacity and capabilities.
Action roadmaps – to help you implement tangible change.
Should you wish to talk to the Impact Innovation team about your innovation investment contact:
07 3041 1128 | info@impactinnovation.com | www.impactinnovation.com