IT HAS BEEN called the ICT industry's David and Goliath battle – and two Davids won again when Brisbane-based companies SuretyIT and Cloud Plus beat out Telstra and Vodafone at the inaugural CRN Impact Awards.
The CRN Impact Awards were established to recognise IT providers for projects that delivered real benefits for customers. Cloud Plus and Surety IT were awarded for their partnership on an information and communication technology (ICT) solution contract for John Deere dealer Chesterfield Australia.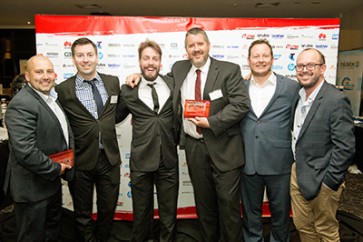 In the end, the ability of the smaller companies to provide the highest quality bespoke solution won the day.
"Chesterfield had invested a lot of money in an IT solution that was not working for them," SuretyIT co-owner and technology director Geoff Stewart said. "It has 16 remote offices in New South Wales and Queensland, many of which are in regional and rural areas. Its staff spend a lot of time in paddocks and on farms and they need an agile IT environment.
"Chesterfield approached us to conduct an independent audit," Mr Stewart said. "We identified a number of problems and we put a lot of time and energy into finding the right solutions in collaboration with Cloud Plus. We looked at the impact that the IT problems were having on the end users and identified that this was leading to a lot of inefficiencies and frustrations.
"Before we implemented the new solution it was taking their staff up to 30 minutes to print out invoices for customers, now it takes seven seconds. That is a massive improvement to their customer service."
Mr Stewart said since the new environment was deployed, Chesterfield had gained back about 15 percent of its workforce hours across 220 staff.
Overall business productivity has improved "and Chesterfield's IT team no longer spend their time firefighting".
Chesterfield general manager of business services Sue Owen said, "Since we started working with Surety IT, we have been able to make sure that the people who are at the front face of the business, out with the customers in paddocks, are connected to our servers and our network and have the information they need readily accessible. That is a massive step forward in how we operate."
CRN AWARDS 2017
Digital Transformation
Winner: Vibrato / CitiPower and Powercor. Highly commended: Mexia / Bendigo Health. Highly commended: Versent / Service NSW.
Workforce Empowerment
Winner: Comunet / Costa Group Holdings. Highly commended: Tquila ANZ / Tyrrells.
Property Inspections
Commended: Calibre One / Halkitis.
Trusted Systems
Winner: UXC Connect / Melbourne Water. Highly commended: Geek / Civil Contractors Federation SA.
Customer Experience
Winner: DiUS / REA Group.
Working Together
Winner: Cloud Plus and Surety IT / Chesterfield Australia. Highly commended: b2cloud and Vodafone Foundation / The Garvan Institute.
IP Product category
Winner: BryteFlow. Commended: NetCrypt.
Modernising Infrastructure - Enterprise
Winner: Kinetic IT / Department of Education WA. Commended: VoIP / Sydney Local Health Districts.
Modernising Infrastructure - Mid-range
Winner: Trident Computer Services / Vale Australia. Highly commended: base2Services / Tuned Global. Commended: Venn IT Solutions / Core Logic (RP Data).
Optimising Investments - Enterprise
Winner: Silverfern IT / Perth Mint. Commended: Professional Data Kinetics / Sureway
Employment & Training.
Optimising Investments (Mid-range)
Winner: OBT / Eureka Funds Management.