InterFinancial marks 30 years
(Article Link: Australian Business Acumen)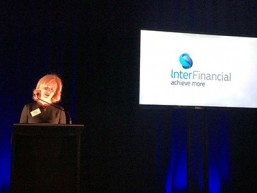 LONG-STANDING Queensland Leaders Industry Expert group InterFinancial has celebrated its 30th anniversary by introducing a range of innovations.
Key among those innovations were the introduction of an online valuation tool based on InterFinancial's three decades of Australia-wide experience, a new business growth consulting business and expansion through a new Sydney office and tapping in to international links through the company's Clairfield International alliance.
The 30th anniversary celebration took place at Brisbane's Gallery of Modern Art (GOMA).
On the evening, InterFinancial chairman Paul Keehan described InterFinancial entering mid-life as a "period for enterprise".
"A time to reflect upon our last 30 years and forge ahead with a new understanding of who we are, what we stand for, where we have come from and how we act," Mr Keehan said. Mr Keehan has been with InterFinancial for 20 years and in the industry for more than 30 years. Mr Keehan is now transitioning to a non-executive role with the firm
InterFinancial managing director Sharon Doyle announced at the celebration that InterFinancial was ranked number six in the Australian and New Zealand markets for mergers and acquisitions (M&A) in the 2016 calendar year for transactions up to $50 million. InterFinancial was ranked number 14 in M&A up to $500 million.
Ms Doyle said it was clear InterFinancial continued to lift above its weight, ranking above competitors "that have more corporate finance offices than InterFinancial had advisors".
Ms Doyle said InterFinancial remained committed to continuous reinvention, "shaping and re-shaping our offering to deliver our clients what they actually need in order to deliver shareholder value growth".
Ms Doyle formally announced the development of InterFinancial's online valuation product,
"We have embedded the 30 years of experience and wisdom of Paul Keehan into a software program that accesses real time market data; applies algorithms based on hundreds of hours of referenceable valuation theory research combined with 30 years of wisdom and experience; and delivers a high-quality, indicative valuation," Ms Doyle said.
Most significantly, the online valuation tool provides advice to InterFinancial clients about how they can improve that valuation.
"We are deliberately putting the power in the hands of our clients so that they can make well informed, higher-impact investment decisions within their business," Ms Doyle said.
The focus on launching a 'growth consulting' business is another imminent InterFinancial innovation.
"Our clients have identified that although they often have incredibly capable senior management teams, they are built to run lean, they manage complex roles and the teams have limited 'spare' capacity to define and implement new strategic growth initiatives," Ms Doyle said.
"In response, InterFinancial has established our Growth Consulting division with specialist skills, and flexible capacity that will assist our clients to define, launch and execute key value-building initiatives.
"We have recruited a team of incredibly experienced consultants who engage on specific, targeted projects including growth strategy development and project management;
buyside advisory services including investment case development, integration planning and synergy identification; and post-merger integration services, including a focus on synergy realisation," Ms Doyle said.
"This is a natural and exciting extension of our core M&A and capital raising advisory work that will help our clients to achieve more in their business."
InterFinancial has recently established a permanent Sydney office with the recruitment of Chris Mundey, who has strong private equity and consulting experience. The group is also engaging even more actively with Clairfield International.
"This has proved an amazingly effective partnership for our clients, with over 70 percent of our transactions across the last two years involving international targets," Ms Doyle said.
"We are securing incredible access through our partner firms and are currently active with strategic parties out of the US, Benelux and China. This relationship has continued to strengthen and we are expecting this to continue over the next decade."