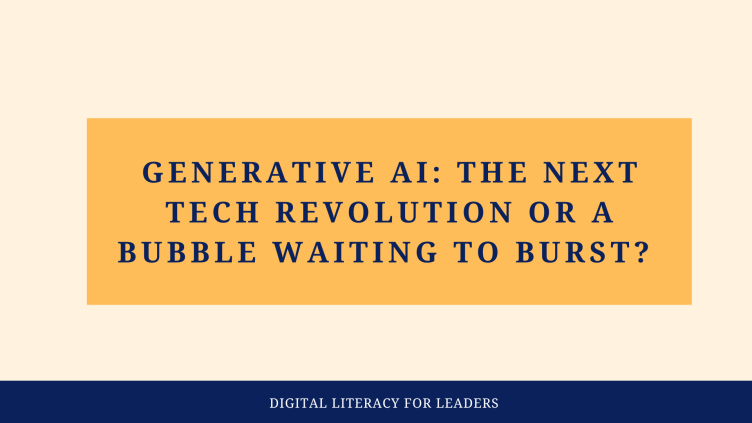 Bill Owens, - Veracity
Over the past four decades, technological advancements have reshaped our businesses. From desktop computers to smartphones, the internet to cloud computing, these innovations have revolutionised the way businesses operate and society functions. Now, a new contender has emerged on the scene, and some experts believe it could be the most significant development since the printing press: generative AI.
Since the launch of ChatGPT in November 2022, Artificial Intelligence (AI) has become the hot topic on everyone's lips. Its potential seems limitless, but big questions remain: can it deliver on its promises and what are the implications for our businesses?
Despite the popularity of ChatGPT and similar AI systems, finding profitable and transformative use cases for this technology has proven to be a challenge. In the world of IT, hype can quickly turn into disappointment.
Additionally, the longevity of the AI boom itself hangs in the balance. Concerns about the spread of misinformation and the potential misuse of generative AI by malicious actors have led policymakers worldwide to consider implementing guidelines. In early May 2023, lawmakers in the EU proposed a set of rules aimed at restricting the use of chatbots, reflecting the growing apprehension surrounding this technology.
In the wake of the growing excitement surrounding generative AI, business leaders across Australia are re-evaluating their digitally enabled business models. Whether ChatGPT lives up to its hype or falls short, the wave of anticipation it has created has prompted boards, CEOs, and executive teams to reassess their digital strategies and capabilities. According to The Economist, in the latest quarterly results season, executives of a record 110 companies in the S&P 500 index brought up AI in their earnings calls.
Traditionally, Australian companies have cautiously embraced new digital tools and technologies to address specific operational challenges or to follow established trends. However, the emergence of generative AI is forcing businesses to go beyond incremental changes and consider infusing their business models with digital capabilities strategically to gain a competitive edge.
These transformative digital revamps encompass a wide range of possibilities. They could involve automating repetitive processes or leveraging sophisticated AI-assisted process mining, mapping, and redesign to achieve operational efficiencies. Additionally, businesses may choose to enhance the customer experience by implementing apps and online services that drive trust, convenience, engagement and adoption.
Generative AI holds the potential to be the next major technological shift, propelling us into an era of untapped possibilities. On the other hand, it might also be another bubble waiting to burst. Only time will tell. Regardless, business leaders cannot afford to overlook the urgency of assessing if their business models are digitally advanced enough to thrive in this rapidly intensifying digital era.
The advent of generative AI has spurred a newfound sense of urgency among businesses. It has become imperative for companies to evaluate their digital capabilities and consider strategic technology investments to stay ahead in the evolving digital landscape. Whether generative AI proves to be a game-changer or a fleeting trend, the need to digitise our business models is undeniable. The future belongs to those who adapt, embrace digital capabilities, and seize the opportunities that lie ahead.


Businesses reassess digital capabilities in the face of generative AI
Critical questions for company boards and executive teams:
What are the technological implications of your core business strategy?
What measurable benefits will technological innovation such as Generative AI, automation, or 'appification' deliver to the business?
What will it cost to implement a technology enable strategy?
What are the implications for existing business capabilities?