EM Solutions personifies Australian hi-tech innovation
(Article Link: Australian Business Acumen)


INNOVATION in action is what high-technology communications developer EM Solutions is all about.
Every step of the way, this Queensland-based company has made the most of its innovative edge. EM Solutions has come from obscurity just a few years ago to seeing its satellite and microwave communication and products lead the world in security and defence communications.
Looking at EM Solutions' pedigree, perhaps its innovation DNA should not come as any surprise.
Occupying the R&D seats at EM Solutions are some of the world's most agile technical minds in the field of information and communication technology (ICT). In the big seat is CEO and managing director seat is Rowan Gilmore, who knows a thing or two about innovation and commercialisation.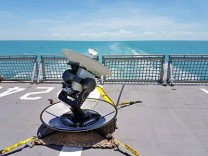 Until June 2011 Dr Gilmore was CEO of the Australian Institute for Commercialisation, where he assisted numerous start-up companies and worked to accelerate technology transfer between research institutions and industry. Prior to this role, he worked extensively in the ICT industry, and was formerly based in London and Geneva from 1998 as vice president of Network Services (Europe) for the airline IT company SITA, now France Telecom's Orange subsidiary. His previous experience was with Schlumberger, Telstra, and OTC (Australia).
Dr Gilmore is an engineering graduate and winner of the university medal from the University of Queensland, and earned his Doctor of Science degree from Washington University in St Louis in the US. He is a fellow of the Australian Academy of Technological Sciences and Engineering, chairman of the ARC Centre of Excellence in Engineered Quantum Systems, and holds adjunct professorships at the University of Queensland in both the School of Business and the School of Information Technology and Electrical Engineering.
"We all know that innovation is the life blood of companies that wish to grow," Dr Gilmore said.
"Innovation is fostered throughout the economy by a supportive ecosystem that encourages investment – in R&D, venture capital, and the incubation of small growth companies; by nurturing human capital, and education in the sciences and technology; by encouraging collaboration, particularly between research organisations and industry; and by applying new technologies and ideas to meet customer needs.
"An often overlooked requirement is that innovation also requires great (or even heroic) customers, who seek the rewards of innovation but still have the risk appetite to be able to fund and trial innovations that might still be ongoing."
EM Solutions is the personification of that knowledge and philosophy. Commercial success in the US and Europe has followed – as have the business and engineering awards – and recently the company's products have finally attracted attention at home.
For many years the EM Solutions was exporting to its overseas customers well before local companies turned to it as a supplier of, primarily, its leading-edge shipboard stabilised satellite communications terminals (pictured).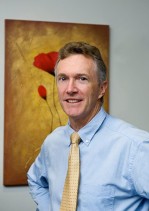 These terminals require very sophisticated software and hardware, using as many parts as a small car, with motors to compensate for the ship's motion and powerful transmitters to reach the satellite thousands of kilometres away.
"Innovation occurs by building on the shoulders of giants that have gone before," Dr Gilmore said. "But the real giants in the innovation puzzle are those customers who embrace innovation and are prepared to fund its development.
"Such customers push the technology envelope and drive innovation by demanding new requirements, new features, and performance improvements. With a new government-led defence industry policy, the Australian Border Force and Royal Australian Navy are two Australian customers that have embraced local technology as part of their new suite of shipboard tools.
"While defending our shores, these customers are helping to keep the local economy innovating and growing as well."
EM Solutions won the 2016 Lord Mayor's Business Award for Innovation.