Brisbane disability business filling big orders for global snack food company

Multicap's employment enterprise, Makeables, is proud to provide co-packing solutions for global snack food company Pepsico for its supermarket product campaigns, meaning more employment opportunities for people with disability.
Following a successful trial in 2021, Multicap and Makeables Tingalpa secured a multi-year contract to package a range of promotional items for the company.
Around 30 supported employees are currently working to package products for shipping to supermarkets, with the number of employees to grow to 100 in the second year and more than 200 in the third year of the contract.
Multicap General Manager Employment Tony Burns says the partnership with Pepsico means new skills and opportunities for supported employees to build confidence and work with greater independence.
"We're excited that this partnership offers a solid training ground for supported employees to learn new transferable skills which could lead to open employment.
"Everyone is trained in the various processes to ensure we meet 100 per cent quality control on each job," Tony said. "And the best part, our supported employees enjoy the variety of work and striving to reach our daily targets for Pepsico."
Supported Employee Neil says the new skills he is learning is helping him towards his long-term goals. "I get up and enjoy going to work—work is important to me," he said. "At the end of the day I feel a lot better about myself that I've put the effort in and taken on new challenges."
Multicap works to remove the barriers to employment for customers and with a focus on independence and personal growth. Employment services give customers training and transferable skills, experience and employment opportunities.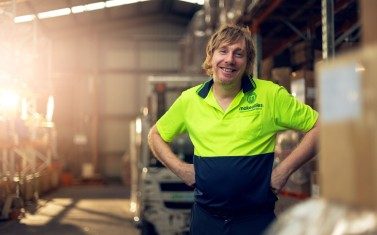 For more information, you can download Multicap's Pepsico Case Study or employment brochure Focusing on Employment Possibilities.
By partnering with Multicap, you will help provide long-term employment and training opportunities to help change people's lives. For further information phone 1300 135 886 to discuss a future partnership or visit the website for more information about employment enterprises.