Algae could net Noosa start-up big rewards
Glen Norris - Courier Mail link here

ALGAE BOOM
NEXT time you snack on a bowl of M&Ms look for the blue ones, says Sunshine Coast entrepreneur Nusqe Spanton. Spanton, the co-founder of biotechnology startup Provectus Algae, says natural blue food colouring is just one of the emerging uses for something most people think of as pond scum. Spanton's firm has just opened a new facility at Noosa dedicated to producing large quantities of algae in sterile conditions in order to create new medicines, vaccines, plant-based foods and flavours and natural bio-pesticides.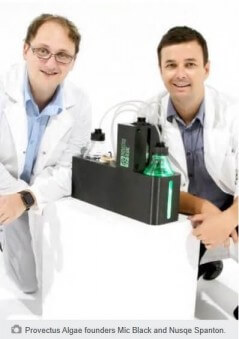 Spanton says algae is an incredibly versatile organism but only 12 of the estimated 15 million types are currently used commercially mostly for dietary supplements. Spanton's firm, which is planning a $15 million capital raising next year, is already working on commercialising several products for the food sector.
This week the firm received a $100,000 grant from the Federal Government's Manufacturing Modernisation Fund (MMF) to further develop its processes.
"With our new facility in Noosa, we aim to continuously discover and commercialise novel products from algae, some of which may have far-reaching implications for healthcare and the environment," he says.
One of the big advantages of mass producing algae over other manufacturing and agricultural processes is that it has minimal impact on the environment. "All we need to produce algae is carbon dioxide and light," says Spanton.
Image: Courier Mail