A look at how 106-year-old Brisbane car dealer AP Eagers plans to survive the auto industry transformation
LINK to Courier Mail article - May 30, 2019 - Glen Norris
When American Edward Eager arrived in Brisbane more than a century ago to set up a car dealership selling US-made Willys Overlands, he chose Breakfast Creek Rd at Newstead to hang up his shingle.
Eager had earlier taken an Overland across the Egyptian desert to the Sphinx to prove its ability to handle the tough conditions similar to what it would face in Australia. The Overland, which sold for £375 and boasted an adjustable windscreen, electric horn and lights, was soon selling like hot cakes.
After arriving as parts packed in wooden crates from a factory in Ohio, the cars were assembled in the company's rapidly expanding workshops at Newstead that included a paint shop, body building department and garage.
Eagers, now called AP Eagers after a merger with rival auto group Alan Piper Motors in 1992, is today still selling cars on the same busy strip of road, albeit from an assortment of flashy and modern showrooms.
But in April in a harbinger of looming changes in the car industry, Eagers announced it was offloading a large chunk of its Newstead land in a sale and lease back arrangement.
As part of the sale of its Newstead holdings, Eagers will move its main headquarters to a new location at Brisbane Airport Automall by 2020.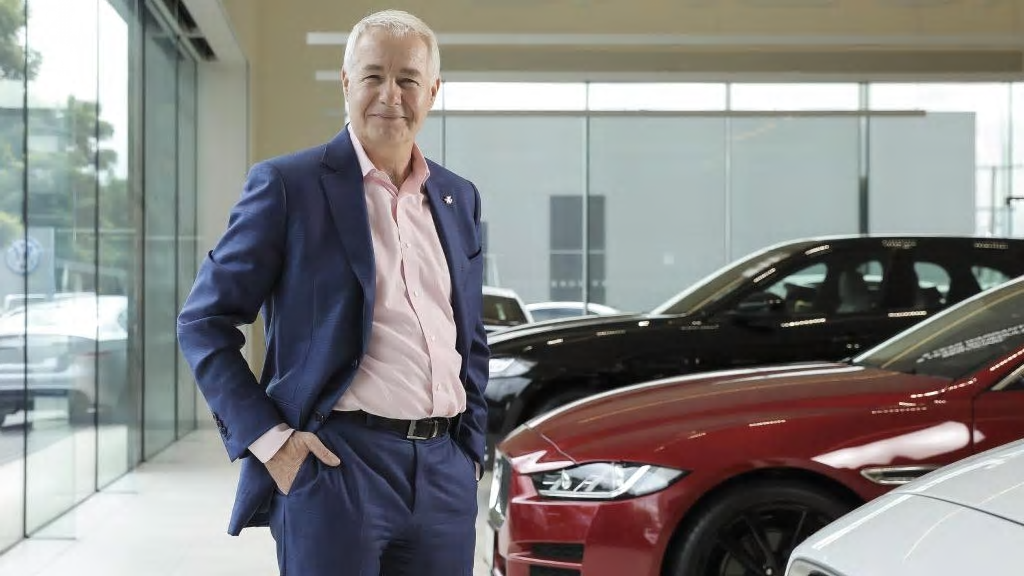 AP Eagers chief executive Martin Ward. Picture: Mark Cranitch.

The previous month, Eagers launched a $2.42 billion bid for Perth-based Automotive Holdings Group (AHG) to create Australia's largest auto group. The takeover is seen as a move to allow both firms to be better able to compete in an increasingly tough market. New vehicle sales dropped almost 8 per cent in the first quarter of the year.
In the changing auto market, Eagers predicts large traditional showrooms will be increasingly augmented by smaller more cost effective boutique outlets in shopping centres and high street locations. "For more than 100 years, we have been selling cars the same way," says Eagers chief executive Martin Ward, a dapper Englishman who has been with the company for 15 years. "We had a great location (at Newstead) doing that for a century, but for perhaps the last four or five years it hasn't been so great."
Newstead was gentrifying and becoming more congested, with the old warehouses and shops being replaced by inner-city apartments, cafes and restaurants. Customers in an age of click and buy were demanding more convenience and choice when they purchased a new car.
"It was becoming harder for our customers to park, with meters up and down every street," Ward says. "It also was getting an expensive place to operate from."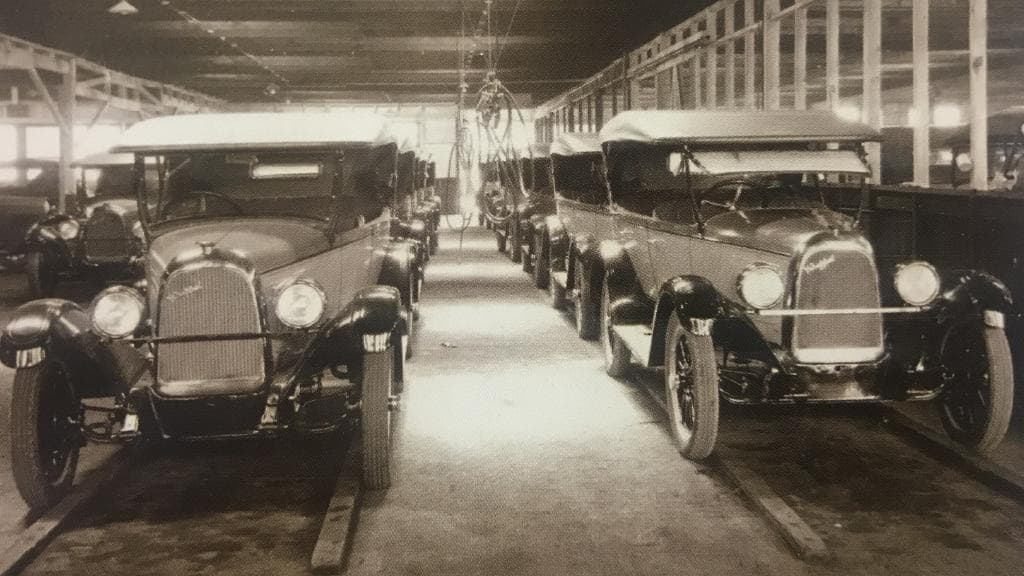 Overland Whippets on the assembly line. Picture: AP Eagers

Eagers has been preparing for the coming changes to the auto sector for some time. Two years ago, it opened a second-hand car dealership called Carzoos inside two major shopping centres in Brisbane. Instead of an expansive showroom containing fleets of vehicles, customers browse online catalogues of used vehicle inside a small store. Once a person choses a car, an app works out a discounted set price that is guaranteed and does not involve haggling.
Eagers chief operating officer Keith Thornton says the Carzoos model of smaller, boutique-sized showrooms is set to be copied across the industry in the coming years.
"Where there used to be these massive showrooms on main roads there will be an evolution to smaller sites. These locations in shopping centres will probably take up 1800sq m and contain up to eight different brands. There will be a place in the centre where finance can be organised while there will be service bays on the roof of the centre." He said technology will be increasingly applied to the business of selling cars, including apps.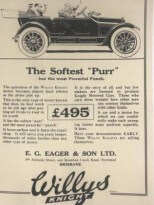 "One of the reasons the auto industry has been slow to adopt apps is that if you have a stand-alone Holden dealership on one road, people don't need to use an app to contact you as they can just pick up the phone," he says. "Now it's about building a network of locations and apps will become important."
He says selling cars will become more about providing an experience for customers. Eagers' planned HQ at Brisbane airport will include a test track, restaurants and cafes. It will evolve over the next 20 to 30 years.

E G Eager & Son advertisement from 1917.
Picture: AP Eagers
"It is all about destination retailing and making it exciting." As a way to engage customers, people who buy a car from Eagers will receive a free car wash for the life of the vehicle at the new airport location.
"The old model would be that people would buy a car from you and you would maybe see them once a year for a service," he says. "This (providing a free car wash) is a way to engage them."
Thornton concedes the current environment is challenging for the auto industry but Eagers is using the tough trading environment to push back on traditions.
He says the planned merger with AHG will allow greater economies of scale and the ability to roll out changes on a bigger stage.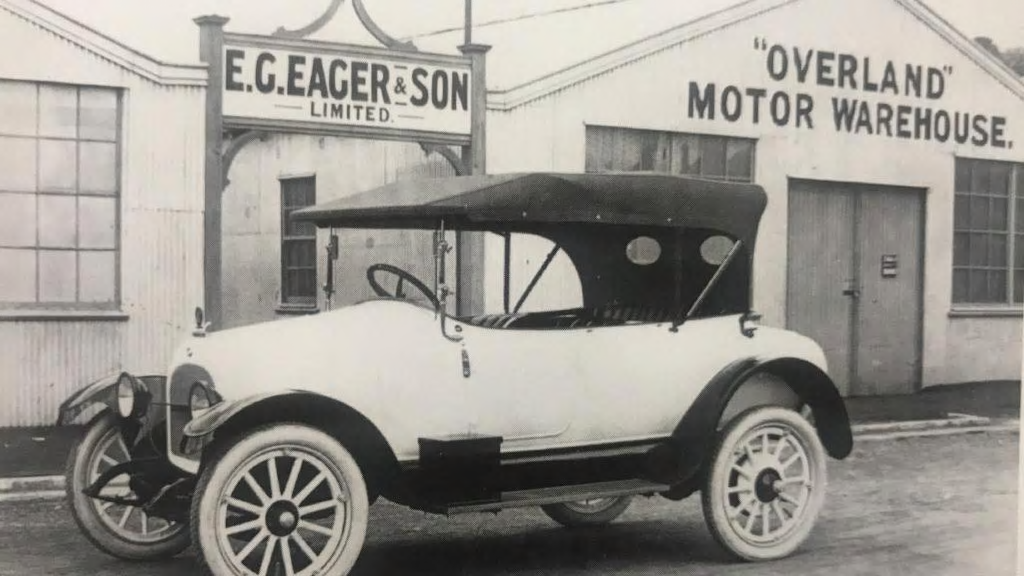 An Overland Tourer outside Eagers at Newstead, circa 1921. Picture: AP Eagers
Ward says the arrival of mass market electric cars, ride sharing and subscription models will shake up the sector. "Maybe we are not always going to sell a car," he says. "Maybe people will want to take out a subscription for a car. The reason that Amazon and others are winning in retailing these days is they are making it exciting."
He says some large car showrooms will remain but in a different form. "Out at the airport, we will have 64,000sq m of space," he says.
"It's on a junction of major routes going north and south and is close to the city. We would have had to go 50km either north or south of Brisbane to get something similar."
IBISWorld senior industry analyst James Thomson says car dealers are attempting to differentiate themselves from their competitors and cut costs at the same time.
"So we are seeing dealerships get larger in outer suburban areas and at the same time there are small showrooms and pop-up dealerships in inner-city locations," Thomson says. "Dealers are trying to provide easier access for potential customers and making the buying process easier. These services offer consumers the convenience of transport without the burden of maintenance costs, insurance and parking costs, particularly in inner city suburbs," he says.
"As these services continue to grow in popularity they may have a larger effect on the auto sector." Back at Eagers, Ward thumbs through a book produced for the company's centenary in 2013 which note the landmark occasions in its history, including ditching old marques like the Overland and embracing then emerging brands like Holden. The changes coming to the car industry will be more evolution rather than revolution, he says.
"The founders of Eagers were always innovating and adjusting for the future."