A CEO FOR THE PEOPLE

An interview with Peter Birtles, MD & CEO, Super Retail Group
by Daniel Jackson, Head Coach - Leader Who Inspires



CEOs come in all shapes and sizes. Each applies the levers that best suit them to get the most out of the organisations they lead.

There is one lever that is rare to find; that is to provide an environment for employees to emotionally engage with the ethos of the company and the products it sells.
"When people choose to emotionally connect with an enterprise's purpose and direction
– remarkable things happen."
Peter Birtles CEO Super Retail Group

MEET PETER BIRTLES

Peter Birtles is the MD & CEO of Super Retail Group (Rebel, Super Cheap Auto, BCF, Rays Outdoor, A Mart Sports, Goldcross Cycles … and others).

I first met Peter at a Queensland Leader's event where he and I had speaking roles about the aspirations of our respective companies. My ears pricked when Peter started talking about the importance of the emotional connection between team members and the strategy of the enterprise; a subject dear to my heart.
At the second meeting at his office behind Super Cheap Auto in the Northern suburbs of Brisbane, it was Peter who met me personally in the foyer. It was Peter who filled my glass of water. My immediate impression was that here was a self-sufficient man who doesn't stand on airs and graces and has not, despite enormous success, allowed his position to define who he is.
This is a rare quality indeed and refreshing – we have all had the experience of senior leaders who are defined by their position rather than their authentic self. And this manifests itself in a need to communicate status and power, something I saw no evidence of in this man.

Peter was The Deal magazine's CEO of the year in 2013. He heads up an organisation that has grown significantly since he took up the reins as CEO in January 2006 (after 5 years as its CFO) when it was Super Cheap Auto and BCF. Major acquisitions followed from 2008 with Goldcross Cycles and Ray's Outdoors coming onboard. The bigger acquisitions occurred in 2011 with Rebel Sports and A Mart Sports. Now Super Retail Group (SRG) boasts an annualised turnover of more than $2 billion from over 600 stores.
SUPER RETAIL GROUP'S SUSTAINABLE ADVANTAGE

We often talk of the importance of communicating the 'why' – a timeless principle recently popularised by Simon Sinek.

This is a well-executed differentiator for Super Retail Group. All SRG retailers have unique value propositions and loyal customers who share the passion of the item range. Super Cheap Auto stores are staffed with car enthusiast, BCF – campers and fishermen, Rebel Sports – sportsmen and women. Team members are passionate about their products; a passion that matches the customer's desire to buy decent quality products at a reasonable price.
This gives tremendous advantage to team member engagement and is unique for a large retailer. In the case of Woollies and Coles, I imagine it would be more difficult for staff to get passionate about food products. So SRG has a value proposition more akin to the smaller niche store. And to be able to satisfy a niche with high quality, value for money products provides SRG a special (and sustainable) place in the market place.
SRG retailers can easily communicate their 'WHY'. Visiting BCF is as much about the camper enjoying the shopping experience among products they can dream about using as it is about range and value for money.
As retailers feel the hot breath of Amazon's imminent presence in the market, SRG stands better placed than most to retain loyal customers. These are the customers who love to drive fast around corners, reel in the biggest fish or complete a gruelling ironman.
It should be no surprise that SRG's tag reads 'Inspiring you to live your passion'.

LINKING TEAM MEMBER ENGAGEMENT TO FINANICAL SUCCESS

Peter Birtles places a priority on building infrastructure and processes that are geared to great customer outcomes. He leverages culture and leadership to achieve sustainable high performance.
The numbers that impress me most are the ratios Peter has developed that correlate team member engagement with the customer's desire to purchase. At all Super Cheap Auto stores, the levels that team members are engaged is correlated positively with the number of items in the basket and dollars spent by the customer (see Figure 1). In short, the stores with highly engaged team members produce better customer outcomes and greater revenue per store.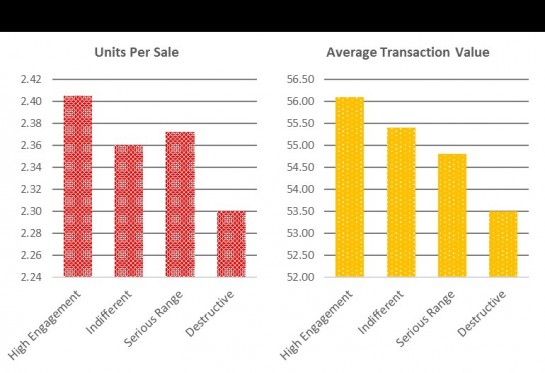 Figure 1: Correlating Team Member Engagement with Positive Customer Behaviour

This is compelling evidence of the direct (and somewhat intuitive) link between team engagement and customer outcomes. But Peter does lament that it is not evident to everyone. Shareholders enticed by immediate 3 month financials often miss this measure; a measure more indicative of sustainable high performance than single points of financial data.
Team engagement has been and continues to be critical to SRG's success. In five years member engagement has risen an average of more than 16 percentile points. (See Table 1).

Table 1: Improvement in Team Member Engagement Over 5 Years
EVOLVING STORE BRANDS
As Peter and I discussed the success of SRG and his tenure as CEO, he was keen to point out that it is the store teams that are most front of mind for him. They are the ones who are face-to-face with the customer every day and sometimes those interactions are difficult. Not every customer is a raving fan and team members are often confronted with dissatisfaction that manifests as belligerence, rudeness and sometimes abuse.
Each of the SRG retailers are at separate phases of evolution and maturity. The challenge is to make sure each member of the SRG team is given a clear message about what is important and where the enterprise is heading. For this Peter relies on store managers (among others) to deliver this message to team members in a manner that is both consistent across stores and cognisant of the level of maturity of the store brand.
FUTURE FOCUS OF TEAM MEMBER ENGAGEMENT

Peter's next step is to decentralise innovation across the company. How he will do this is still a work in progress but this 12-year CEO veteran now sees the opportunity for more creativity at the coal face, the customer touch points.
It is at the customer interface that SRG intends to encourage greater levels of creativity. Store teams know their customers better than anyone else and Peter sees their input to innovation as important to SRG's competitive advantage as it drives towards $3 billion revenue.

I saw no sign of Peter Birtles slowing down in his drive towards better people engagement, a better experience for customers and better results for SRG shareholders.
In a humble way, he considers his CEO of the Year Award attributable to the efforts of the wider SRG team. "They make me look good, he states. "In any case, today's headlines become tomorrow's fish and chip wrappers."
Such is the nature of the man, understated - ready to stare down an uncertain retail future by leading a company whose bedrock is a culture of highly engaged people that are emotionally connected to the success of brand.
This would make Peter Birtles the envy of more than a few of his colleagues in the retail industry.