$2m Granite Belt cellar door from former paperboy, Macca's worker
Des Houghton, Courier Mail - click here for article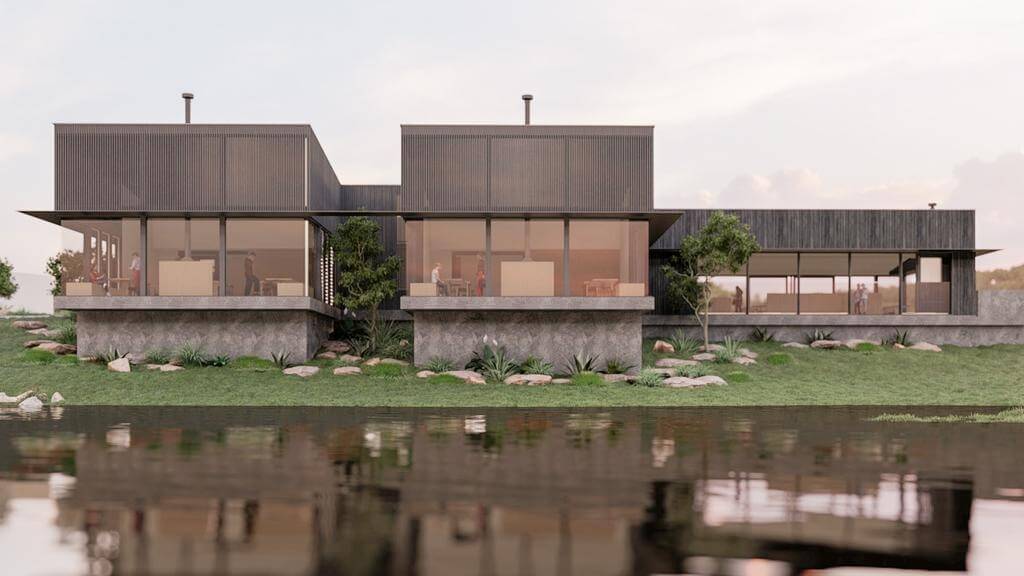 An artist's impression of Greg Kentish's $2 million restaurant and double cellar door project Balancing Heart Vineyard on the Granite Belt
Entrepreneur Greg Kentish says his days a newspaper delivery boy and a burger flipper at McDonald's helped prepare him for his next great project: a $2 million cellar door and restaurant on a run-down vineyard he bought recently at Wyberba on the Granite Belt, 30km south of Stanthorpe.
He is also seeking approval from the Southern Downs Regional Council to build 12 luxury villas in a masterplanned community surrounding the vineyard, and close to a national park featuring gigantic boulders and set on attractive stone platforms.
"It's a stunning location. It is the nicest outlook of any winery on the Granite Belt," said Kentish, 55.
He purchased Balancing Rock vineyard near Girraween National Park and rebranded it Balancing Heart Vineyard, and has already upgraded the cellar door.
The vineyard already had 13 varieties, and Kentish hopes to plant a dozen more.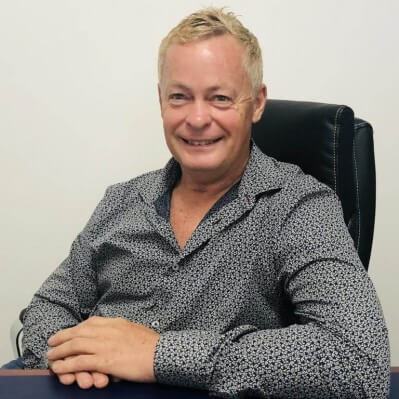 Entrepreneur Greg Kentish, 55. Picture: Des Houghton
He will soon start planting the obscure northern Italian red grape variety, refosco and another Italian variety, piedirosso from Campania.
"We will end up with 31km of vines," he said.
And to his good fortune he recently excavated a blocked well to discover it was fed by an underground spring.
Kentish brought it back to life and says it was producing 2300l a day.
The spring offers the water security he needs for his expansion plans.
His investment will be a major boost to the Queensland wine tourism industry.
Kentish is also negotiating to buy two more Granite Belt vineyards.
He said he had been a fan of Balancing Rock wine for years, and couldn't believe his luck when the vineyard came on to the market.
Kentish is especially fond of the juicy cherry flavours in Italian grape variety sagrantino and has ordered his viticulturists to plant another 10 rows.
To complement his vineyards, he plans to open six wine bars in Brisbane.
The first, Balance and Blend, is under construction and will open at 182 Cavendish Rd, Coorparoo, in three weeks.
Kentish said his own business had flourished because he was taught the value of customer care as a young man at McDonald's.
He stayed at the fast food giant for 15 years, becoming a senior manager before completing a master's degree in finance and an MBA.
He also started a landscaping business.
In all he has 12 companies.
Kentish's flagship company, Acacia Connections, operates a large psychology and wellness centre at Coorparoo.
His motto: "I want to run great companies that deliver great service."
Kentish says his time as a newspaper delivery boy in Brooklyn when he was 12 also expanded his horizons, and taught him to value money.
His father Noel had taken his family to New York while he completed a PhD in philosophy at Columbia University.