Growth Strategy & Investment Forum 23rd August
Date: 23 Aug 2017, 2:00pm - 5:45pm (GMT+10:00) Brisbane

Growth, Strategy & Investment Forum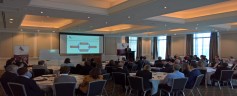 Wednesday 23rd August 2017
2.00pm to 5.00pm, followed by Networking & Refreshments
Brisbane Marriott Hotel
515 Queen Street, Brisbane, Queensland

Scroll down to Register

Success in business requires access to knowledge and experience.
The Growth, Strategy & Investment Forum has been designed for Founders, CEOs and Directors of private companies who are pursuing growth, sustainability and funding in the current climate.
Each presenter is a leading practitioner and has been carefully selected for their experience and history in assisting growth companies. The agenda, list of presenters and topics covered are on the following page.
Attendance is limited to 40 guests, ensuring maximum value for attendees. Acceptances are confirmed on a first-come, first-served basis, with RSVP's requested by Friday 11th August 2017
Managing Change Through Innovation
Building an Effective Sales and Performance Culture
The Art of Designing Business in a Disruptive Environment
Innovation, Productivity & Best Practice
Government Engagement & Assistance – Advance Queensland
Case Study: Positioning Yourself as an Industry Leader
Sorry, you've missed the RSVP deadline for this event.